The Limed project partners
4N media group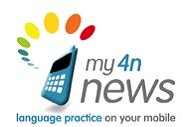 The market studies run by 4n Media Group among the general public have emphasized a demand for new approaches regarding English language learning.
Established in 2007 by Catherine DANG and Daniel KATZ, 4n Media has won the prizes HEC Mercures for entrepre the Telecom Institute. Emerging from the incubator of TELECOM SudParis (ex-INT Evry), 4n Media is also Laureate of Scientipôle, support organism for technological start-ups supported by the Ile-de-France region and member of the Cap Digital competitiveness pole, specialized in digital content. Labeled Young Innovating Enterprise by the Ministry for Research and Higher Education, 4n Media Group edits the "my4n-News" service which proposes learning English using international news on oe's mobile telephone. This innovating service has been awarded the best educational app prize during the Mobile Online Fair.
The pedagogical approach of 4n media relies on immersion using authentic media content: international news, videos, press, TV… Recommended by all the teachers, this media approach is effective for progress in oral and written comprehension.
4n Media addresses the generation of Digital Natives who have mainly digital interests and learning modes. In particular, the society explores the pedagogic potential of new media such as mobile telephones or learning through videos.
Jamespot
Jamespot is a SME involved in new services over the Internet.
In 2005, Jamespot develops Jamespot.com (www.jamespot.com), a multilingual community site which allows to communicate to friends whatever we find interesting on the Web in a single click.
In 2008, Jamespot develops the professional version in SaAS. Jamespot.Pro mode (www.jamespot.pro), which is the solution for the 2.0 enterprise.
This solution proposes targeted uses of knowledge or client relation sharing, structured in «spots», or thematic spaces grouping together links, articles or documents, animated by the registered members.
This enterprise social network allows you to create links, to facilitate relations for all the parts of an enterprise and to accelerate the specific processes of the enterprise for increased productivity.
Jamespot Pro proposes to facilitate as much as possible information collecting: in a few clicks, I disseminate and categorize an idea or an interesting link in the right spot. This categorization allows first of all a pertinent classification of information, but also the identification of experts I can contact afterwards with the coordinates offered by the user.
Using default or personalized interfaces, integrated in the IS environment or as an independent tool, Jamespot.Pro easily adapts to context and requirements. Its configuration elasticity and functional richness allow it correct framing of the uses envisaged by the organization.
Jamespot proposes its connectors «SocialReady» to integrate into specialized tools covering related uses (example: Google Docs for co-editing documents, or Oodrive for storing documents, etc.). Jamespot also focuses on its specialty: animating a social network respecting as much as possible the targeted uses.
Jamespot's hosting gives you complete freedom. The user no longer has to worry about maintenance, material or software.
Institut Telecom 

TELECOM Institute is one of the prestigious French Grandes Écoles in Information and Communication Technologies.
TELECOM Institute comprises: TELECOM ParisTech, TELECOM SudParis, TELECOM Business school, TELECOM Bretagne, as well as two subsidiaries, TELECOM Lille 1 and EURECOM, and two associated schools, ENSPS and TELECOM Saint-Etienne.
Its mission is to provide higher education and research in the field of ICT. It includes about 600 researchers, 700 PhD students and research teams covering a wide range of subjects, from fundamental technologies, information treatment, networks, informatics and software development to economical, social and legal matters.
Since the creation of competitiveness poles in France in 2005, the TELECOM Institute has increased its efforts towards regional partnerships with large enterprises, SMEs and university laboratories: it is the partner of several competitiveness poles, such as System @ tic, Cap Digital Paris Région, Images & réseaux , Solutions Communicantes Sécurisées … In Europe, it has participated in 40 projects of the 6th PC / IST and participates in 16 projects ICT of the 7th PC.
LSH Department (Languages and Human Sciences)
Able to naturally combine two of its basic missions, education and advanced expertise in the field of ICT, the Télécom Institute is well positioned to be a leader in the R & D applied to technology assisted learning.
The e-learning research group of the Foreign Languages and Social Sciences Department (LSH) is actively taking part in several French and international projects which aim at adapting the latest technologies and infrastructures to support new and innovating pedagogical scenarios. The projects have led to the creation of tele-learning networks, means of distance learning dissemination, complete and flexible engineering programs incorporating information and communication technologies, of international collaboration learning and virtual mobility, of platforms for sharing educational resources and they have also contributed to the development of virtual campuses. (Some projects financed by the EU: the Multimedia Teleschool (DELTA), LEVERAGE (ACTS), EducaNext (IST)).
Katherine Maillet, involved in LIMED, has thirty years of professional experience in foreign language teaching and research. Her experience includes the development of school curricula, R&D project management in the field of technology-assisted learning.
ARTEMIS
ARTEMIS (Advanced Research and Techniques for Multidimensional Imaging Systems) is a teaching and research department within the TELECOM Institute. Its vocation is to conduct research in the field of image processing sciences and technologies. ARTEMIS deals wih the image chain, from the creation of digital content to its broadcasting. For the last ten years, ARTEMIS has been contributing actively to MPEG standardization (MPEG-4 and MPEG-7) and to the promotion of MPEG-4 and MPEG-7 among industrial actors, offering worldwide expertise in exploratory and pre-competitive projects, such as the AGIR, SEMANTIC-3D, Fame2 and HD3D-IIO national projects, the IST OLGA European project, and the ITEA Jules Verne and Passepartout projects.